Is an high-class bed and breakfast located on the charming main street of Lecce's historical centre. Renata Merola promises great hospitality in a cosy, relaxing environment as you experience the wonders of this unique town .

Prestige is the ideal location for visiting Lecce and its surroundings.
We provide an intimate atmosphere for our guests along with a huge range of services and information to help you to enjoy your experience to the full .

Our philosophy is simple: to make all our guests feel at home even while they are on holiday.
The B&B is located in the limited traffic zone, inside the old city walls; For access by car see the map below: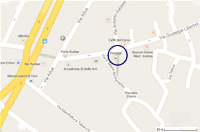 By air or train, following times and services:
- flights to Brindisi (30 minutes by car)
We offer pick-up by appointment at extra cost
- flights to Bari (1 hour 40 minutes by car )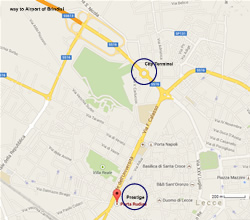 The B&B is located in the limited traffic zone, inside the old city walls; For access by car see the map below:
instructions to download pdf
- Shuttle service from Brindisi airport
- TAXI service from Railway Station Lecce